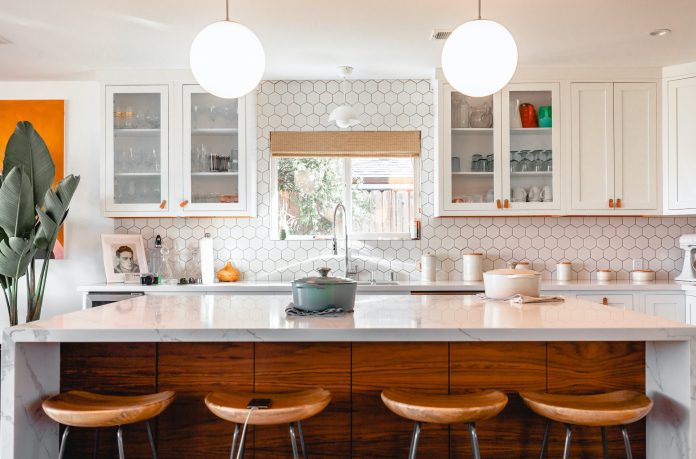 Do you want to add a touch of style and personality to your home, but don't want to splurge on expensive remodeling projects? Subway tiles are the perfect way to achieve this look without breaking the bank. They are versatile, easy to install, and come in a wide variety of colors, sizes, and shapes that make them perfect for use in many different areas around your home. In this blog post, we'll explore some innovative and creative ways to use subway tiles beyond the traditional kitchen backsplash.
In the Bathroom
Subway tiles are an increasingly popular choice for bathroom walls, adding a modern look while still maintaining a timeless style. Whether you're looking to renovate your entire bathroom or just add a touch of personality, subway tiles are the perfect solution. On your shower walls, subway tiles can add an elegant touch that is easy to clean and maintain. For maximum impact, choose one color tile for the walls and a contrasting color grout to create an eye-catching design. Additionally, consider mixing up the pattern of your tiles—like opting for herringbone, chevron, or pinwheel patterns—to give your shower walls a unique spin.
In the vanity area, opt for larger subway tiles that will help make the room appear larger. Go for simple white tiles with light gray grout to keep the look fresh and contemporary. If you're feeling bolder, consider using a colorful tile to create a more vibrant feel. Or, use a combination of different colored tiles to add a bit of visual interest. The floor of your bathroom is also the perfect place to incorporate subway tiles. Choose a classic white or neutral color to create a calming atmosphere, or go for a bolder color or pattern to add some pizzazz. For a truly eye-catching look, mix different colored tiles to create a patchwork effect.
As an Accent Wall
Subway tiles can be used to create a stunning accent wall that adds texture, dimension and interest to any room in your home. By using subway tiles on an accent wall, you can create an eye-catching feature that will make your space stand out. Subway tiles come in many different shapes, sizes, colors and textures, so you can find the perfect tile for your project. To create an accent wall with subway tiles, start by selecting the tile you want. You can use either single or multiple colors for this look. To achieve a classic look, you can use neutral tones like white, gray or beige.
For a more modern look, try brighter colors such as turquoise, yellow or even black. The size of the tiles is also important to consider when creating an accent wall; larger tiles will make the wall appear more expansive while smaller tiles will create more intricate patterns. Once you have chosen your tile, it's time to install it on the wall. Depending on the complexity of the pattern you want to achieve, you can either do it yourself or hire a professional. If you are using multiple colors, be sure to measure and mark out the layout beforehand so you know exactly where each color will go.
When installing the tiles, begin at the bottom of the wall and work your way up. Start at the center of each row and work outward, making sure to keep the grout lines straight. Once the tile is installed, it's important to grout it properly to ensure that no water seeps through and causes damage. Finally, finish off your accent wall with a glossy sealant that will help protect it from spills and other damage. With a bit of creativity and skill, you can easily create an accent wall that will become a show-stopping feature in any room of your home.
In the Mudroom
Subway tiles are a great way to add a touch of classic charm to your mudroom. Not only do they look beautiful, but they are also easy to clean and maintain. Whether you choose bright white tiles, or go with a more neutral color scheme, subway tiles can provide a stunning backdrop for your mudroom. For a contemporary take on the classic look, try installing your tiles in an interesting pattern or layout. Herringbone is a great option, as is the timeless brick-bond pattern. If you're feeling bold, why not try a diamond pattern? These geometric designs will give your mudroom a unique look that stands out from the crowd.
When it comes to choosing the grout color, remember that lighter colors will make the tile stand out, while darker colors will create a more subtle look. Whichever you decide on, make sure the grout is sealed properly so that it doesn't stain. If you want to add some warmth and texture to your mudroom, consider adding wood accents to the walls and floor. This will help create a cozy atmosphere and will also balance out the starkness of the tiles.
In the Laundry Room
A glass subway tile backsplash is a great way to add a modern yet classic look to your laundry room. As the main feature or as an accent wall, subway tiles can transform your laundry room from drab to fab. For a fun and unique look, you can opt for colored subway tiles or even mix and match different colors for a truly custom design. If you're looking for a subtle touch of texture, you can choose to add a glass mosaic tile to the mix. Alternatively, if you're looking for something more bold and dramatic, you can use large-format subway tiles. This is especially effective when used on the floor or as a full wall. Regardless of what you choose, adding subway tiles to your laundry room will instantly give it a contemporary and stylish makeover.
Outside
For an outdoor kitchen, subway tiles are a great way to create a modern and inviting space. With their waterproof properties, subway tiles make an ideal material for a backsplash that can withstand all sorts of weather conditions. To keep your outdoor kitchen looking fresh, choose subway tiles in a neutral color like white, gray or beige. You could also get creative with patterned or colored subway tiles to give your outdoor kitchen a more unique look.
You can also use subway tiles to update the look of your patio, deck or pool area. Subway tiles can be used to create a decorative border around your outdoor space, creating a modern, polished look. They can also be used to clad walls and columns, giving your outdoor space a more finished look. To keep the look cohesive, use the same color and style of subway tile as you would in your indoor space.
Subway tiles can be an incredibly versatile and stylish design element in any home. Whether you're looking to give your kitchen a modern update or you want to add a unique touch to your bathroom, these tiles can be used to bring a classic and timeless look to your home. If you're feeling adventurous, you can even use subway tiles outside your home or in the mudroom or laundry room. Whatever your style or design preference, subway tiles offer limitless possibilities for adding character and personality to any space.